| | |
| --- | --- |
| Aquired: | September 2004 |
| Status: | Summer Daily Driver |
| Running: | Yes |
| Primary Stats: | FWD 5-speed Manual Transmission Front Engine 2.0L Inline 4 Cylinder |
I purchased the Prelude because I've always wanted one for some reason, I like the look of them and they remind me of my old Civic. I also wanted a car that gets better gas mileage than my Jeep, which is horrible on fuel, and one that was a stick shift.
I bought the Prelude off craigslist after trying to buy another one previously, the owner sold it to someone else after I had agreed to buy. This Prelude turned out to have a few problems, it needed a CV joint shortly after I bought it, and I had the timing belt replaced which was fairly expensive. It also developed a leak in the clutch line, I replaced the slave cylinder, but had to replace the line afterwards as this did not solve the problem, so I am not sure if the slave was really bad or not. It also broke down once because of a bad distributor. Also, the previous owner thought the driver's seat was broken, and had it propped up with a "club" anti theft device wedged against the rear seat. I found that the only thing wrong with it was the bolt holding the seatback in place had fallen out, and was in fact still in the seat cover, so that was a free fix. Despite all this in a fairly short amount of time, I like the car and will probably keep it for a while. It has been getting almost 30mpg, which I think is pretty good. I am currently running German Castrol 0w30 synthetic oil, at 10k intervals. I plan to drive this car most of the time this summer.
As of May 7, the Prelude is sporting a new windshield which allows light to pass through it, an all weather conditions.
I am looking at replacing the cassette deck with a cd, and the rear speakers may be blown. I installed a new power antenna, as the old one only went up half way, but it seems the new one broke already. A replacement sits on the floor currently.
Update: I installed the other power antenna, but it also broke, fortunately in the "up" position. However, this was soon rectified by some of the people walking along the street, who saw fit to break it off. Fortunately, I just installed a satellite radio CD unit, so I've been listening to that instead of the terrestrial radio.
I've done some fancy body work on the rear wheel wells (the standard Honda rustouts) and it looks... better. I didn't bother to take progress pictures, but I'll have to put some current ones up that show the outcome. The paint is not quite a match, so there are some large yellow squares.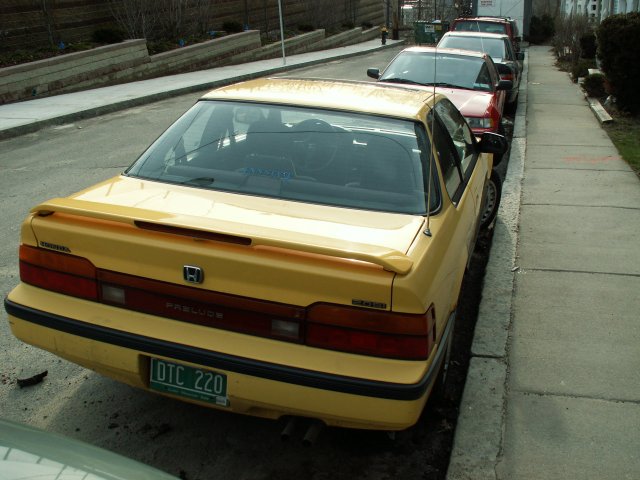 ---
Made with Bluefish HTML editor.
2005 Analogmath.com